Discover New
Worlds with
Virtual Reality
Cineplex is bringing new virtual reality experiences to theatres to immerse you in storytelling like never before. Using ground-breaking technology and world-class content, this is entertainment you have to see to believe.
THE FUTURE IS COMING
Prepare for a mind-shattering VR experience with insanely immersive visuals and 360 sound that will launch you and your friends into virtual worlds more realistic than anything you've ever imagined. Shoot, soar, save the day and play to win in a state-of-the-art environment with IMAX VR, now open at Scotiabank Theatre Toronto. Welcome to the future.
SUIT UP
This isn't your friend's living room. With IMAX VR you're getting the most advanced VR headset and motion-tracking technology powered by blazing fast computers in a state-of-the-art facility purposely designed to let you suspend reality. The result? A VR experience that's light years ahead of anything else available.
IMAX VR EXPERIENCES AVAILABLE
STAR TREK™: BRIDGE CREW RESCUE AT PERSEPH
Star Trek™: Bridge Crew will immerse you in the Star trek universe thanks to VR. In co-op, form a crew of four players to serve in the roles of Captain, Helm, Tactical or Engineer. Make strategic decisions and coordinate actions with your crew.
CATEGORY
Casual Experience
CONTENT ADVISORIES
Fantasy Violence
VR ADVISORIES
Simulated Motion, Combat Situations
RUN TIME
20 minutes
JUSTICE LEAGUE:
AN IMAX VR® EXCLUSIVE
Join the Justice League in a thrilling Cinematic Virtual Reality Experience* that allows you to step into the shoes and master the powers of the iconic DC Super Heroes: Batman, Wonder Woman, Superman, Aquaman, The Flash, and Cyborg. You can't save the world alone. Join the League! *NOTE: This is offered as a SEATED and a STANDING experience.
CATEGORY
Intense Action / Physically Active
CONTENT ADVISORIES
Fantasy Violence, Mildly Scary Situations
VR ADVISORIES
Combat Situations, Extreme Heights, Large Creatures, Simulated Water Immersion, Simulated Motion, Possible Vertigo
RUN TIME
12 minutes
JOHN WICK: CHRONICLES
An immersive first-person-shooter game built from the ground up for virtual reality. Players are asked with assassinating seemingly impossible targets that only John Wick himself could handle. User will have choice between 2 levels.
CATEGORY
Intense / Action, Physically Active
CONTENT ADVISORIES
Blood and Gore, Intense Violence, Language
VR ADVISORIES
Intense Combat Situations
RUN TIME
10 minutes
EAGLE FLIGHT
50 years after humans have vanished from the earth, the city of Paris, as well as the skies above it, are yours. Soar, dive, race and fight to protect your territory from your opponents. Experience the freedom of flight along with the thrill of aerial combat.
CATEGORY
Casual Experience
CONTENT ADVISORIES
Mid Violence
VR ADVISORIES
Extreme Heights, Simulated Motion
RUN TIME
10 minutes
ARCHANGEL
A story-driven shooter game in which players are dropped into the cockpit of a six-story-high war machine that must stop a tyrannical corporation from taking over a post-apocalyptic America.
CATEGORY
Casual Experience, Age Restricted (13+)
CONTENT ADVISORIES
Violence, Blood, Language
VR ADVISORIES
Simulated Motion, Extreme Heights, Combat Situations
RUN TIME
10 minutes
LIFE OF US
"Life of Us" is a first-of-its-kind social VR project. The piece is experienced by 2 players at a time, where they continuously evolve together; starting from a single-cell organism and ending as a post-human robot. Participants can talk to each other along the journey, with their voices digitally altered to fit each scene. Sundance Award winning piece
CATEGORY
Suitable for VR beginers
CONTENT ADVISORIES
Comic Mischief, Cartoon Violence
VR ADVISORIES
Simulated Motion, Large Creatures, Extreme Heights,
Simulated Water Immersion
RUN TIME
8 minutes
RAW DATA
Raw Data puts your wits, boldness, and endurance to the test. Action combat mechanics, sci-fi atmosphere, intuitive controls, and a darkly humorous narrative will completely immerse you within the game world. Go solo—or team up with a friend—and become the adrenaline-charged heroes of your own futuristic technothriller.
CATEGORY
Intense / Action, Physically Active
CONTENT ADVISORIES
Violence
VR ADVISORIES
Intense Combat Situations
RUN TIME
15 minutes
FEATURES INCLUDE:
Room-tracking technology that allows players to explore virtual space more than has ever been possible.
Single-player and head-to-head multiplayer competition.
A combination of the most advanced VR headset technology for unmatched immersion and image resolution.
Control devices that give lifelike haptic feedback, adding a deeper layer of realism.
IMAX VR EXPERIENCES
There's something for everyone, from VR beginners and casual explorers to avid gamers and adrenaline junkies looking for an intense thrill ride. Find the experience that best suits you by locating the content rating associated with the experience.
For tickets, visit the IMAX VR Centre, located on the ground level of Scotiabank Theatre Toronto.
FREQUENTLY ASKED QUESTIONS
GENERAL
1. What is IMAX VR?
IMAX VR is a mind-shattering VR experience in a location-based, state-of-the-art Experience Centre.
2. What is the IMAX VR Experience about?
The IMAX VR Experience features a unique combination of premium technology and world-class content that lets users see, feel, move and play in new worlds in a powerfully immersive and realistic way, much like IMAX® theatres offer moviegoers a differentiated and best-in-class film experience. With groundbreaking VR headset technology, 360-degree sound and sophisticated room tracking, players will be instantly transported into new virtual worlds that are more realistic than anything imaginable.
3. What type of VR content is available?
From Star Wars to The Walking Dead, IMAX is partnering with world-class content and gaming producers to bring you the most epic VR experiences imaginable.
Please check out our kiosks or IMAXVR.com for a list of available and upcoming experiences.
At this location, the following experiences are available.
• Justice League: An IMAX VR® Exclusive
• Archangel
• Raw Data
• Life of Us
• Star Trek: Bridge Crew, Rescue at Perseph
• Eagle Flight
• John Wick Chronicles
4. How long is each experience?
IMAX VR experiences can vary in length. Please check the experience description for specific details.
At this location, experience times can vary from 7 to 20 minutes.
5. How much does it cost?
Experience prices vary depending on the length and complexity of the experience you choose.
6. Why are the experiences so expensive?
IMAX VR provides a premium and cutting-edge VR experience that can't be found anywhere else. It would cost thousands of dollars to try and re-create the same experience in your home.
7. What type of equipment is offered at IMAX VR?
IMAX has combined advanced VR headset technology with sophisticated motion-tracking and computing for unmatched immersion and image resolution. IMAX VR leverages two industry-leading VR headsets –the HTC Vive and Star VR– and features unique haptic feedback from a variety of control devices, adding a deeper layer of realism.
8. How does IMAX VR compare to the VR headsets available in the home?
IMAX VR is a premium "end-to-end entertainment experience" that combines the highest-end technology (HMD, room-tracking, peripherals, etc), unique content, and experiential design to create the best VR experience available.
9. Does IMAX plan on opening any more centres?
Yes – please check IMAXVR.com for more details.
10. How to reply to feedback?
Email us at info@imax.com and guestservices@cineplex.com.
11. Are there any physical limitations that would prevent me from participating?
Blindness. In addition, pregnant women, people with vertigo, motion sickness, heart problems or are prone to seizures are directed to proceed with caution.
12. Can I bring food or drinks in the pod area?
Food and drinks are not allowed in the pod area.
13. What is your website address?
www.imaxvr.com and www.cineplex.com/VR.
14. I don't want to sign the waiver. Can I enjoy the experience anyway?
The Waiver must be signed at time of purchase. Its intent is to ensure the safety of all parties.
15. Will my personal belongings be safe?
You can place your personal articles into the provided cupboard in the pod.
16. I'm not a gamer, is IMAX VR for me?
VR is not necessarily about gaming…We have scenarios that are purely experiential.
17. Can I book multiple experiences in a row?
Yes, you can… in fact we encourage booking back to back experiences because one is never enough.
18. I don't like this experience; can I get a refund.
Speak with the current manager on duty and let them determine what should be done.
19. How many people can participate at one time?
It depends on the experience selected. Some games and experiences are single-user, while others can accommodate multiple users (multiplayer). Please read the experience description for more details.
20. What is the age limit for IMAX VR?
If you are under 18 years of age, a parent or guardian must complete a waiver on your behalf. Your parent or guardian may sign an online waiver by clicking on the "Sign Up" button above or complete the waiver in person at an IMAX Experience Centre. Children aged 7 to 12 years also require the accompaniment of a parent or guardian prior to participating in an IMAX VR Experience. No children under the age of 7 are permitted to participate in an IMAX VR Experience.
21. How early should I show up before my schedule time?
Please give yourself time to park and arrive 15 minutes before your scheduled time to review and sign releases.
22. Can I book a specific pod?
We do not list particular pods… and we change games and pods by demand so it is difficult to request a particular Pod.
23. Can I play a game with the person in the pod next to me?
Yes, if the pod is available and the game is one of those that can accommodate multiple users.
24. Can my friend watch me play?
Visitors are welcome to watch from outside the pod.
IMAX VR PODS & TECHNOLOGY
25. How many PODS are there?
There are 10 pods in total.
26. Can I wear glasses inside the headset?
Most standard prescription lenses will fit in the headset. If your frames are very large, they will not fit inside the headset. Depending on which headset, crew members can adjust the focal length of the lenses.
Glasses cannot be worn with the StarVR headset, as it will scratch the StarVR optics.
27. I feel dizzy/nauseous!
Tell your attendant immediately and they can help to remove your headset and headphones. Closing your eyes, sitting down or calm breathing can also help.
29. I'm stuck in the game.
Our IMAX VR Crew Member is well versed in the game and can help guide you along.
30. I can't see clearly/everything is blurry
The IMAX VR Crew Member will wipe the optics of the headset with the lens cloth and cleaner. Should that not resolve the issue, our IMAX VR Crew Member can help adjust the focus knobs on the HTC Vive headset manually.
31. The headset feels loose.
The IMAX VR Crew Member can assist with adjusting the straps on the HTC Vive until the headset fits.
32. How often are the headset and peripherals cleaned?
Headsets, peripherals and headphones are sanitized after every use.
33. What is HTC Vive?
HTC Vive is one of 2 technologies that we use for the visual portion of your experience.
34. Can anyone use these headsets?
Consult your doctor before using the product if you have serious pre-existing medical conditions, psychiatric conditions, conditions that affect your ability to safely perform physical activities, or are pregnant or elderly. Do not use the product if you are sick, fatigued or are under the influence of intoxicants.
35. What is different about the HTC Vive at IMAX VR vs the one you can purchase in the store?
Our location uses the Business Edition of the HTC Vive powered by Acer, the best in class computing and GPU hardware in the market.
36. Can I bring my own peripherals or headphones?
We provide everything you will need for your experience… Your own equipment is not interchangeable.
37. What is the StarVR Headset?
StarVR is one of 2 technologies that we use for the visual portion of your experience.
38. What is the difference between HTC Vive and StarVR?
StarVR features a 210° field of view, a 5120 x 1440 OLED display, and ten base stations for user tracking.
HTC Vive features a 110° field of view, 2160 x 1200 OLED display, and two base stations for user tracking.
DON'T JUST SEE IT. FEEL IT.
Get into the action like never before with the next level of virtual realism. A revelation in believability, D-BOX recreates the sensations of the real world with motion and vibrations through your seat, while suppressing dizziness associated with virtual reality. Synchronized with thrilling VR audio and video content, this hyper-realistic motion experience is unlike anything you've ever seen…or felt. Are you ready? Experience it soon at Scotiabank Theatre Ottawa.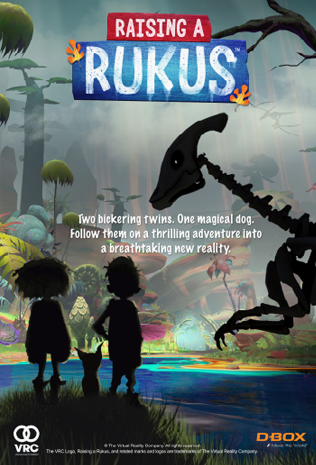 RAISING A RUKUS Two Bickering Twins, One Magical Dog
Jonas and Amy are two twins who couldn't be more different and sharing a small bedroom means free-spirited Amy and studious Jonas can't help but get on each other's nerves. But when a magical dog finds his way into their lives - they will experience a whole new reality. Rukus leads the twins on a rollercoaster journey through a thrilling prehistoric world where it will take all of Amy's athleticism, all of Jonas's knowledge, and embracing each other's differences to find their way back home. Thoughtful storytelling, cutting edge technology, and unlimited imagination combine in this groundbreaking new franchise for a unique entertainment experience the whole family can enjoy. Raising a Rukus is the first episode of the groundbreaking new franchise from the Academy Award Winning Production Designer of Avatar and the Director of Maleficent.
Opening Soon in the XSCAPE entertainment center of Scotiabank Theatre Ottawa.